A HIGH ALTITUDE PASS LOCATED AT 4950 MTRS
Send Enquiry & Get Itinerary on Whats App

| | |
| --- | --- |
| State | Uttarakhand |
| Difficulty Level | Moderate to Difficult |
| Duration | 8 Days |
| Start Point | Sankri |
| End Point | Sankri |
| Highest Altitude | 16200 ft  |
| Day Temperature | 12 to 20 Deg |
| Night Temperature | 12 to -4 Deg  |
Bali Pass Trek Overview & Itinerary
Bali Pass trek is one of the few treks that have an unexploited beauty and natural terrain due to its moderate level difficulty and obscurity. It connects the Ha ki dun valley to Yamunotri valley, chance to visit Yamunotri temple as well. It lies at the height Altitude of 4953 Meters. The Bali Pass trek starts from Sankri village and Ends at  Jankichatti Yamunotri. 
Yamunotri temple is the best part of Bali Pass trek, with rich meadows, rivers beside the trails, mountain ridges, pine forests, glacial ranges, Ruinsara lake and jaw-dropping views of the Great Himalayas, peaks like Bandarpoonch, Black peak, Kalanag, Swargarohini – I, II, and III and many others peaks.
The Bali Pass trek is moderately difficult one and not for beginners because the trail includes crossing through difficult terrains and steep ascents. Follow us on Instagram. Therefore, the Bali Pass trekking involves associated challenges but is great for adventure seekers and avid trekkers. 
So you have to be fit physically as well as mentally. In addition to challenges and adventure, It is full of panoramic views of the Himalayas, astonishing beauty of mountains, serene environment, soothing green meadows. Therefore, Bali Pass Trek is a perfect offbeat destination for travel lovers who want to spend some quality time in the lap of nature.
What is special about Bali Pass trekking?
The trail being of moderate level difficulty, it requires fitness but a perfect trek for adventure lovers who like to take challenges.
Trek to one of the Highest passes of Uttrakhand Himalayan range.
Get to wtiness panoramic view of the high Himalayan peaks, glacial lake "Ruinsara" and different varieties of Flora and Fauna.
Chance to trek through meadows, pine forest, trails beside a river.
The trek offers a complete 360 degree view of mighty Himalayan peaks. Mt. Bandarpoonch, Mt Black peak, Mt. Swargarohini.
Chance to cross a pass and visit Yamunotri Dham, One of the Char Dhams of Uttarakhand(Yamunotri, Gangotri,Kedarnath and Badrinath)
Day 1: Dehradun to Sankri, 200 Kms Drive
Pick up from Dehradun Railway Station at 6:30 AM. Dehradun is well connected with Delhi through railway and road route. Overnight Buses and Trains are available.
A 200 km drive to Sankri Via Mussuorie, Kempty Falls, Netwar & Purola.
Arrival at Sankri village by evening, Check in Guest house/Hotel. Dinner and rest at the guesthouse/hotel. Quick introduction and briefing about the trek
Day 2: Sankri to Chilurgad via Taluka, 11 Kms Trek
Travel to Taluka village from Sankri after the breakfast.
A 11 km ascend trek to Chelurgad campsite of passing through pine forest and a river seen flowing beside the trail.
Arrival at the campsite, pitch your tents here.
An evening acclimatization walk
Evening refreshments and snacks post walk.
Overnight stay at the camps.
Day 3: Chilurgad to Devsu Bugyal, 7 Kms trek
A 7Kms Trek to Devsu Bugyal from the campsite after the breakfast.
Enjoy the view of snow clad mountain peaks and meadows.
Spent some quality time in the vastness of meadow.
Continue trek to reach the campsite and pitch your tents.
An evening walk around the campsite
Evening refreshments and snacks post walk.
Overnight stay at the camps.
Day 4: Devsu bugyal to Ruinsara lake, 12 Kms trek
After breakfast, start 12kms trek to Ruinsara lake.
Rest and packed lunch on they way to the Lake.
Reach the Ruinsara lake in the evening. Pitch your tents here.
Ruinsara Tal is a freshwater Lake that lies amidst the pristine peaks and is nestled on the foot of Mt. Kalanag.
An evening walk around the campsite followed by snacks.
Overnight stay at the camps.
Day 5: Ruinsara lake to Odari camp, 7 Kms trek
After breakfast, start 7 kms trek to Odari campsite.
Rest and packed lunch on they way to the campsite.
Walk along the river and Reach the Odari campsite in the evening. Pitch your tents here.
Odari is a rock cave; local shepherd stay here in monsoon season. Here enjoy the majestic views of Mt. Bandarpoonch and Mt. Swargarohini.
Day 6: Odari to Bali pass summit and down to upper Damni campsite, 12 Kms trek
Early in the morning after breakfast, start 12 kms trek to Damni campsite after the Bali Pass summit.
Today is the most challenging and adventurous trek as the trail is covered with snow, so as to start early(Safety is priority here).
Before reaching the summit there are some technical climbs that can be done with the help of our team.
From the summit of Bali pass Trek, the view will surely leave you speechless. Thereafter trek down to Damni campsite.
Reach the campsite. Overnight stay here
Day 7: Damni campsite to Janki chatti, 12 Kms trek
After breakfast, start 12kms trek to Janki chatti via Yamunotri temple.
Rest and packed lunch on they way to the Janki chatti.
Visit Yamunotri temple on the way and take bathe in hot spring water here.
Thereafter trek down to Janki Chatti which is 5 kms from here
Reach Janki Chatti and overnight stay at the hotel here.
Day 8: Janki Chatti to Dehradun, 185 Kms drive
After breakfast, Travel towards Dehradun.
Reach Dehradun in the Evening.
Essentials to carry with you on Bali Pass Trek
Backpack/Ruck Sack (at least 55 Litres) and a small day bag ( upto 15 litres) for summit day
Poncho/Raincoat and Rain Cover for Ruck Sack
2 Quick Dry T-shirts (preferably Full Sleeves) and Track Pants
Warm Jacket preferably a down jacket or an equivalent heavy jacket to protect from cold at night
Comfortable Shoes with a good grip and ankle support. We recommend Quechua Forclaz 100 or similar shoe
A pair of fleece jacket or fleece upper
Good Thermals for insulation at night
Lip Balm and Cold Cream
Sun Cap or Sunscreen (SPF 30+)
Dark Sunglasses. People who wear spectacle may use photochromatic lenses in their spects
2 pair of warm socks and at least 2 pair of normal cotton socks
1 Pair of slippers/Sandals
Woolen Cap and Gloves for night
Toiletries – Light Towel,Tooth brush, Tooth paste, Liquid soap, Hand Sanitizers, Slippers, Light Towel, Toilet Roll (Avoid wet tissues as they are not eco friendly)
Torch or Headlamp with extra pair of batteries
Personal Medical Kit
Water bottle 1 L or Hydration bag 2 L
Other personal accessories – Camera, Tripod, mobile charger, power banks(as there will be no electricity during the trek)
Note:
Being a high altitude trek, Bali Pass trek is suitable for climbers with good physical condition and stamina.
This is a tentative itinerary which may change as per weather conditions
We expect you to carry your rucksacks, in case if you want them to be carried by mules back pack offloading charge up to Rs. 300/bag/day is applicable
In case of any natural calamity the company will not be able to refund the trip charges, for more details check our cancellation policy
Journey Through Majestic Landscapes on Bali Pass Trek with the searching souls
The Bali Pass trek is a unique experience for those seeking the raw grandeur of the Himalayas. This exhilarating trail connects Har Ki Dun valley with Yamunotri, offering an almost exploratory journey. Along the way, trekkers will pass through the serene Ruinsara Valley and the lush meadows of Devsu Thach, where the undisturbed beauty of nature will captivate them.
As the Bali Pass trek progresses, the scenery transforms from verdant greenery to an alpine zone. At an altitude of 16,207 ft, the Bali Pass Trek presents a 360-degree panoramic view of the Bandarpoonch, Kalanag, and Swargarohini peaks. However, it's important to note that this reward comes at a cost, as the trek is challenging and recommended for experienced trekkers only.
Is Bali pass trek for me? Here are all the reasons why you should plan you next trek to Bali pass:
The Bali Pass trek begins with a visit to the ancient villages of Gangad and Osla, where the Himachali architecture of the temples at Osla is particularly captivating.

The Bali Pass trek continues with a surprise at the alpine meadows of Devsu Thach in the middle of the Ruinsara Forest. The setting is picture-perfect, with tall trees and the peaks of Swargarohini and Kalanag in the background, making it an ideal spot for camping.

The trail from Devsu Thach to Ruinsara Lake is both beautiful and challenging, with a narrow valley and an array of alpine flowers across the riverbank.

The Ruinsara Lake itself is a special glacial lake, surrounded by the beautiful mountain ranges of Swargarohini. The meadows around the lake are pristine and peaceful.

The Bali Pass trek also includes a challenging approach to the pass, which is best done in either the pre- or post-monsoon seasons. Trekkers who enjoy high-altitude pass traverses will feel at home.
History has it…..

The Bali Pass Trek derives its name from Bali, the legendary monkey king who ruled over the Kishkindha mountain and triumphed over even the infamous demon Ravan, as celebrated in the Indian festival of Dusshera. Although Bali holds great significance in Hindu mythology, it is unclear why a pass in Uttarakhand, located in the north of India, bears his name since Kishkindha mountain is situated in south India, specifically Karnataka. 
Upon inquiry, we were informed that Bali had journeyed through these mountains and vanquished a demon at Odari, hence the pass was named after him.
Safety with TSS
The Searching Souls has always considered safety as the utmost priority in their treks. We Have a "Zero Negligence" approach toward safety. As a result, we have taken the following steps.
Medical Tents: TSS is the Only Company in the Country that Pitches dedicated Medical Tents to The Slopes at all their Campsites. The Medical Tents consist of a Stretcher, Oxygen Cylinder, First Aid Kits, Oxymeters, and a few other facilities depending on the Slope and the nature of The Terrain.
Qualified Trek leaders: All Our Trek Leaders are Qualified From the Nehru Institute of Mountaineering and have thorough knowledge and experience of the Mountains.
Emergency Planning: Team TSS always plans a step ahead in the Mountains as we believe anything at any time can happen in the Mountains, All Our trek leaders, Camp managers, and Cooks are aware of what should be the Course of Action in case of Medical Emergency and Natural Calamities.
TSS Support Team: Safety in the Mountains begins at Home, Proper Planning and preparation are Key in any Mountain Trek. TSS Support Team is always available and will help you prepare better for the Trek through their Expert Knowledge and Guidance.
TSS Jumbo Bags: For executive travelers seeking adventure, trekking is a popular way to explore unfamiliar terrain and find inner peace. However, selecting the right equipment can be crucial to ensure safety and comfort during the journey. TSS recognizes this and offers a solution with their MY JUMBO BAG – BUDDY, which includes all necessary gear for a high-altitude trek at an affordable price. 
The company also emphasizes the importance of quality equipment in ensuring a successful and memorable trek, while cautioning against overpriced or unnecessary items. With TSS, travelers can confidently embark on their trek, knowing they have a reliable companion in their trek bag. Are you tired of spending a fortune on expensive trekking equipment? Look no further than MY JUMBO BAG – BUDDY.
How to reach the base camp of Sankri?
Sankri, a charming village that boasts stunning views of Mt. Swargarohini, is an ideal destination for business travelers seeking to unwind amidst natural beauty. During the winter season from December to February, Sankri is covered in snow, adding to its allure.
The journey to Sankri commences from Dehradun, the capital of the region, which is located 197 km away and takes approximately 10 hours to reach, with an elevation gain of 1950 m. You can reach Dehradun by: 
Air: The nearest airport to Dehradun is the Jolly Grant Airport, which is located around 25 km away from the city center. It is well-connected to major cities like Delhi, Mumbai, Bangalore, and Kolkata. From the airport, you can hire a taxi or take a bus to reach Dehradun.
Train: Dehradun has its railway station which is well-connected to major cities in India such as Delhi, Mumbai, Kolkata, and Chennai. The Dehradun Shatabdi Express is a popular train that connects the city with Delhi. From the railway station, you can hire a taxi or take a bus to reach your destination in Dehradun.
Road: Dehradun is well-connected to major cities in North India through a network of roads. National Highway 7 and 72 pass through the city, which makes it easily accessible from nearby towns and cities. You can either take a bus or hire a taxi to reach Dehradun by road.

The last 22 km to Sankri is a highlight as it passes through the famous Govind National Park, which is home to a diverse range of exotic flora and fauna. The roads may be rough and bumpy in some sections, but the breathtaking views of the dense conifer forests, Tons river valley, and scattered apple orchards make up for it.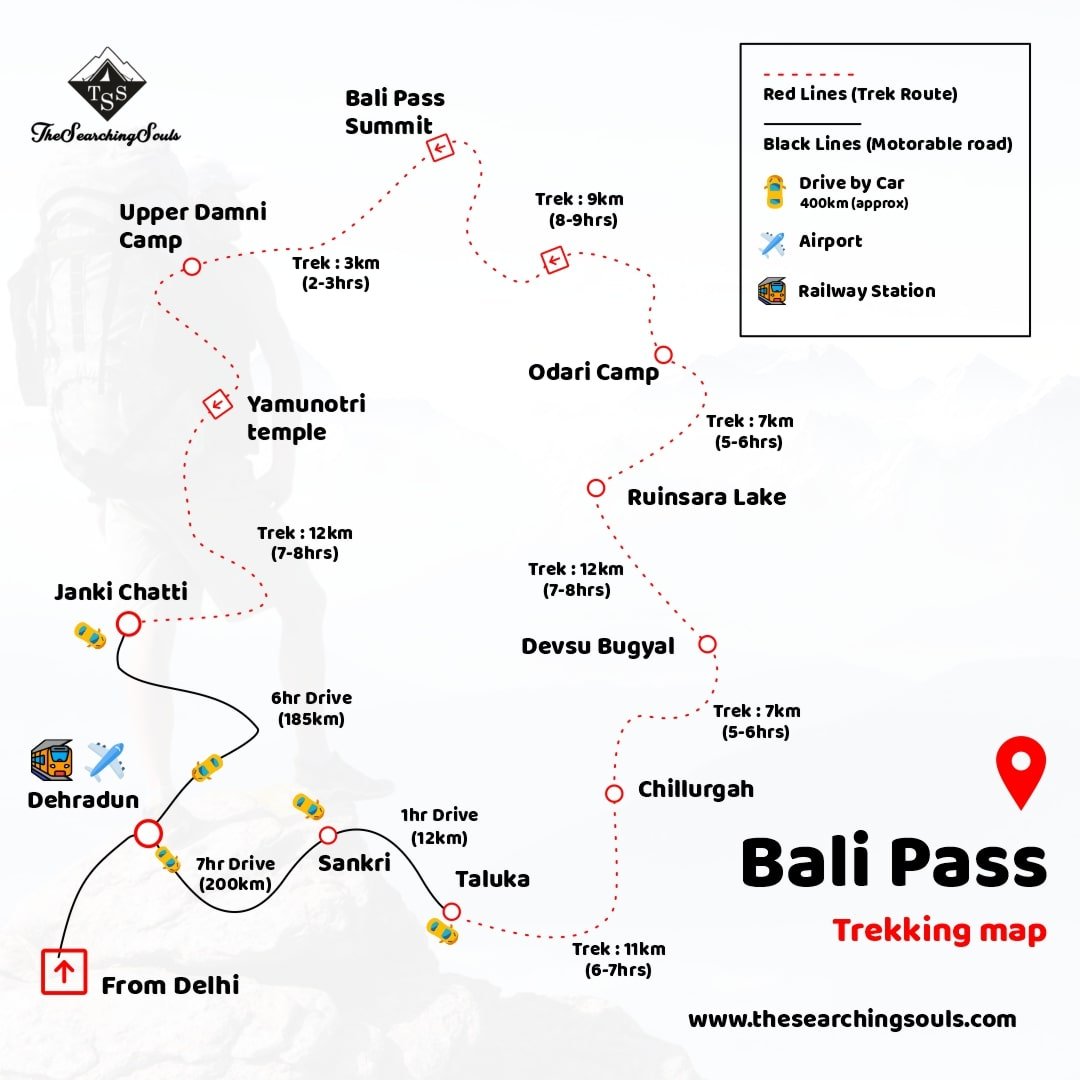 What should you pack for the Bali Pass Trek ?
Rupin pass trek is a high altitude cross over trek in India and it connects Himachal Pradesh to Uttarakhand.
Gaumukh: The Source of...
Hike to Gaumukh is a challenging trek with scenic views.It is a glacier in the Himalayas which is the source of the Ganges River. ...
Har Ki Dun
It is a beautiful trek in the Himalayas which goes through the Govind National Park, which is famous for its wild flowers especial...
Ali Bedni Bugyal Duo also known as "God's own meadows" is a picturesque trekking destination.