ABOUT DIVYA PRAKASH DUBEY
Divya Prakash Dubey is a Hindi bestseller author, songwriter and has a couple of short films too credited to his name. His three books, a couple of collection of stories in Hindi – Terms and Conditions Apply and Masala Chai, and a short novel, Musafir cafe have changed the very fabric of modern Hindi writing.
He is the first Hindi author of this fusion style of writing, thereby making the popular fiction genre for Hindi Indian Literature appealing to a wide audience. His other ground breaking efforts include the widely read Sunday Wali Chitthi and StoryBaazi. Both being revolutionary and new ways of story telling to the masses.
Here is a candid interview with him about about his life, struggles and key learnings.
How did you get to where you are today? What is your story?
It rewinds back to 2003, the second year of under graduation, a group of friends decided to perform a play which was based on the book "Dange me Murga" by Gyan Chaturvedi. Being an avid reader ever since childhood, I had read that book and wrote a script regarding the existing problems of college. There were five of us who were casted for the play and it was the first time that a play of this kind was to be performed in the college. The impact of this play was quite huge in my life. I was a person who had never seen recognition before this, this experience was quite overwhelming. It was an exuberant feeling, having an audience  of 700 ,clapping for you was all the approval that I was looking for all my life. Our confidence soured high that day, and that was the day I realised "Ismein kuch ho sakta hai". I believe when you look back in life, you tend to reminisce very few moments that you cherish all along, for me this was one of them. I continued writing for the next two years in college.
I graduated in the year 2005 without a job. With no plan at all, I came back home and started freelance writing for two whole years for a local agency in my hometown. My first project in writing was an anthem for a school, which I wrote with the help of my college friend Muktesh Mishra. It received a positive feedback and acknowledgement. In fact, initially they did not believe that the anthem was written by us. We were given an amount of 1000 bucks, which was my first earning through writing. I still have that sum of 1000 bucks jointly earned by Mukesh and I. I keep them in my documents folder along with my marksheets and other certifications in order to keep me motivated. It might sound eerie but every year in Diwali, I even pray to that sum of money.
After two years of freelance writing, I got an admission in a renowned MBA college. It was there where I got to understand what is good writing, what is rejection. I met Samarth, who was trained in theatre, we started making short stories and worked over numerous scripts. Post my MBA I got placed in Idea, with a good profile with one of the best packages.
I never had a serious plan of becoming a writer. It was like a trek and I was not aware of the summit. I just knew that I had to climb over, one step at a time and I wanted to enjoy the journey. Once I started working, people told me that I won't be able to write as frequently as I used to in college. I wanted to prove them all wrong but during the initial days of my corporate life, I actually wasn't able to write. I started to feel a void within me, it was probably the dissatisfaction from within. Eventually I started writing again and strike an equilibrium between work and life. Later over the years I realised that giving up on every other thing that I was passionate about, for my job was not something that I was ready to compromise for. I worked for eight years in four different job profiles and published four books.
One thing that I got to learn from my job is patience, which is something that is not taught in schools or colleges. In today's world we need instant gratification of the things that we do today. We live in the world of virtual reality of Instagram, where we expect instant acknowledgement. Eventually, I decided to quit my job and give a try to full time writing. Currently, I am working on a series of stories for Amazon audible and soon a new book "Ibne Batuti" will be launched. I tend to enjoy my very own  story sessions. I still say that I don't know where the voyage is heading towards but I am taking one step at a time
With friends at his Engineering college COER, Roorkee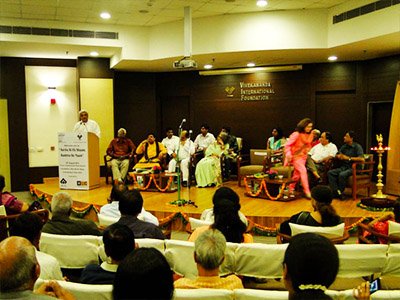 At Kavi sammelan Blessed with the presence of Javed Akhtar 
Membership of film writers Association
Writing Sessions With Piyush Mishra 
How did you convince your family to quit your corporate job and become a full time writer?
I believe that I am  very lucky when it comes to my family. My father even suggested once that if I wanted to get into writing professionally, I should read the best writers and understand the industry for at least 6 months. He was so supportive in whatever I decided to pursue. In fact, I was not even coerced for choosing either engineering or MBA. I am happy to have supportive parents. Still, it was a difficult choice as when I quit my job I had a kid to take care of, but I believe that if you have big dreams, your struggles will also get bigger. Also, I believe that we should try  taking decisions based on our emotions rather than empiricals that logic persuades us to.
You are an inspiration for many, what is your learning from life that you want to share with our readers?
Hard work and patience. I believe these are the two ethos essential for success. There is no escaping hard work.
Also, I believe that it is never too late, some people get success early, it is good for them but some may get it late. It is okay. There is no timeline for success. Everyone has their own time zone.
We live our lives in a rush, we don't tend to take a pause  even to contemplate what is this all about? By the time we are 35 we don't even think about why we are doing what we do. I think it is essential to take a break because life is not about distance, it is about the direction we are heading towards.  It is like getting down at Dadar Railway station, you don't even have to move, you will be pushed by the crowd and somehow you will even manage to reach the exit. The aesthetic of the process  is that you will have a perception of reaching somewhere but that definitely is not your destination. A great thing that I implemented is that I took breaks in life, after my secondary education and my graduation. I was fortunate I would rather say that I had those early years to think about life and that has definitely made me what I am today.
TEDx Talk, SIBM Bengaluru
Do you have a super hero in real life?
I don't have one super hero, I have many. The magnificent stories I hear from the people inspire me. One of such stories is of a man called Raju.
I met him while I had to go to Thapar college for a session. It was a 2 hour drive from the airport. So Mr Raju was humming a few songs, since it was a  long journey and I was bored. I asked him to sing a few songs , he had a melodious voice.. He asked me "Kya sunenge aap?". I asked him why didn't he go for Indian Idol or as a matter of any singing reality shows. He told me that  he did and even qualified the 1st round but before he could attend the second round his wife passed away. He couldn't go for the 2nd round,  he battled severe depression after the passing away of his wife. He wanted to go to Mumbai while his first wife was alive as she was a teacher and could have taken care of expenses so that he could follow a career in music but his parents got him remarried again and with marriage came responsibilities too so he had to  quit his dream .Presently,  he sings in local jagrata. Raju is a happy man and quite popular too. The most important thing is he never quit singing.  He has legit reasons to complain but he is not complaining and just following his heart. Extraordinary stories of ordinary people motivate me. It illuminates me that if someone who has a lot to complain about , has so many struggles,  can follow his passion why can't we. Fortunately I got everything favouring my odds.,
Why do you think it is important to follow your passion?
It is important because that is what makes us humane . It adds  purpose to your life, gives it a thrive otherwise there will be no difference in a man and a machine. We have the ability to think and to create that is what we should always do, without this there is no point of life.
More about Divya Prakash Dubey