Uttarakhand Tour : Kumaon Region
About Kumaon : Kumaon is one of the two regions of Uttarakhand, the other being the Garhwal Region. There are total of six district in Kumaon Region of Uttarakhand. The Kumaon region is home of some of the most beautiful hill stations in India like Nainital, Ranikhet, Kausani, Mukteshwar, Pithoragarh and Munsyari. As per a local Story the Kumaon region is known for its greenery and  the Garhwal Region is known for the water bodies. This Kumaon tour helps you cover all the aspects that makes a traveller rush to the mountains i.e. Lakes, Wildlife, Mountains, temples and Peaceful stays. If you are looking for a complete trip to the mountains this is the package which you must check out.
Corbett National Park, Ramnagar: – Jim Corbett National Park is a forested wildlife sanctuary in northern India's Uttarakhand State. Rich in flora and fauna, it's known for its Bengal tigers. Animals, including tigers, leopards and wild elephants, roam the Dhikala zone. On the banks of the Ramganga Reservoir, the Sonanadi zone is home to elephants and leopards, along with hundreds of species of birds.
Nainital: – Nainital is a Himalayan resort town in the Kumaon region of India's Uttarakhand state, at an elevation of roughly 2,000m. Formerly a British hill station, it's set around Nainital Lake, a popular boating site with Naina Devi Hindu Temple on its north shore. A cable car runs to Snow View observation point (at 2,270m), with vistas over the town and mountains including Nanda Devi, Uttarakhand's highest peak.
Lake Tour : The Region near Nainital is famous for lakes all around it, In this tour we will take you three most beautiful lakes around Nainital, these are Bhimtal or the lake with the Tapu, here you will find a small tapu ( island) amidst the lake, other being Sattal where you can enjoy water sprots and the third is Naukuchital which is famous for its nine corners.
Ranikhet: – Ranikhet is a hill station in Uttarakhand State, northern India. It's known for its view of the Himalayas. Hundreds of bells adorn Jhula Devi Temple, dedicated to the Hindu goddess Durga. Fruit trees grow on the terraced orchards of Chaubatia Gardens, with views of peaks including Nanda Devi. Mahatma Gandhi stayed in a hut, Gandhi Kuti, in nearby Tarikhet village during the independence struggle.
Almora:- Almora is the oldest hill station of the State and is renowned for its old heritage and Culture. Located amongst the mid of the jungle the town will bring in you immense peace and relaxation. The town is surrounded by some spritiual places  like Jageshwar Dham, which is one of the twelve jyotirlingas, The Sun Temple and the Girjia temple.
Other places in Kumaon Region- Pithoragarh, Kausani, Mukteshwar, Munsyari, Brahamtal trek, Pindari Glacier, Roopkund Trek, Baijnath Temple, Nanakmatta Gurudwara etc.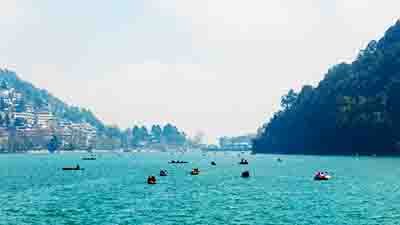 Sattal, bhimtal Naukuchiyatal
Day 01: Pick up from Delhi Railway Station and drop at Nainital
The travelers will be picked up from Delhi, Overnight Journey of 305km to Nainital
Arrival at the Hotel in Nainital
Breakfast at Hotel.
Visit Nainital Tourist Spots like Tiffin top, Snow View, Nainital Zoo and Cave Garden etc (As per time).
Dinner at the hotel
Day 02: Nearby Lake Tour
Breakfast in hotel
Leave for lake tour – Bhimtal, Sat tal, Naukuchiyatal
After the lake tour travel back to hotel in Nainital
Dinner at the hotel
 Day 03: Nainital to Ranikhet
Check out from Hotel after Breakfast
Leave for Ranikhet after the Breakfast.
Check in Hotel
Local Excursion in Ranikhet – Ranikhet Market or museum or Mankameshwar Temple etc.
Dinner at the Hotel
Day 04: Ranikhet to Almora
Check out from Hotel after Breakfast
Local Excursion to Apple Orchard, Jhula Devi temple and Chaubatia
Travel to Almora in the afternoon
Excursion to Golf Course and Kalika Temple on the way
Check In at Hotel in the Evening
Dinner at the Hotel.
Day 05: Almora to Jageshwar Dham
Check out from Hotel after Breakfast
Travel to Jageshwar Dham Temple built by the Pandavas.
If return early you can also go to Suntemple at Katarmal or Girjia temple
Dinner at the Hotel.
Day 06: Almora to Ramnagar
Check out from Hotel after Breakfast
Visit leftover site scenes like Almora zoo or any temple
Leave for Jim Corbett National Park at Ramnagar.
Check in at Resort
Evening Activities at the resort: Swimming, Volleyball etc.
You can visit Girjia temple and ramnagar Museum
Dinner at Resort
Day 07: Ramnagar to Delhi
Early morning Jungle Safari in Corbett National park in a gypsy.
Check out from Resort after Breakfast
Leave For Delhi
Your Trip with TheSearchingSouls Completes here. Have a happy journey ahead.
Popular Tours around Kumaon Region