Located in the Chamoli district in the State of Uttarakhand, Valley of Flowers is pretty self-explanatory in the name itself. Come at early monsoons to take a perfect picture with your hands stretched out against the galloping valley of green misty flora with a waterfall at the front on looking at your candid pose. It has a lot to offer right from a breathtaking landscape to a spiritual getaway. So, let's end the wait here and move further to know why you should visit this wonderland in Uttarakhand.
It is part of the Nanda Devi National Park & reserve which was announced as a UNESCO World Heritage site on the year 2005. Stretched across the land of 80.75 kilometers across, it is a trek of approximately 15 kilometers. The valley of flowers have been visited by pilgrims and visitors alike since ancient times for meditative purposes
2. Because you Searched for it
Valley of flowers is the most searched places that you could visit in Uttarakhand. Let's face it, every state thriving on active tourism has a few basic tourist attraction linked to it. In the case of Uttarakhand it is generally Mussoorie, Rishikesh and rafting, Haridwar and holy dip and of course Valley of flowers and Hemkund sahib. 
3. Never seen before flora
Ideally the flora found in the valley of flowers could be called endangered or as per the official website of UNESCO says it "globally threatened". The diversity of finding medicinal plants is comparatively higher than in any other Himalayan region of India. There are around 529 species of plants found in Valley of Flowers.
4. Well protected and untouched
The trek to valley of flowers is well protected as compared to any other trek. The natural botanical garden looks almost manually manicured with precision. But it is absolutely natural and undisturbed. The park has a rich integrity, therefore you as a trekker must abide a few guidelines while you trek its paths.
It is indeed the highest and the most beautiful Gurudwara in the world. "Tell your troubles to the one who is the source of all comfort" – Gurunanak Dev Ji. Fuel your body with the best Gurudwara Langar and fuel your soul with the soothingly delicious Guru Prasad, it is a perfect delight to your aching muscles or tired body on the way back to Ghangaria after your trek at Valley. Take the dip in the holy lake and find your body rejuvenated.
6. The best monsoon delight
It is among few places which you can trek during monsoons. Have you ever considered yourself to be a pluviophile? Are you absolutely in love with the rain? The sound it makes when it hits the ground, greets the plants, the smell of wet grass, soil and thundering clouds around you? If the answer is yes then please do not miss this trek.
Your DSLRs and Go Pros might get to click some of the best shots here at The Valley Of Flowers. Every atom at valley speaks beauty and grace, so much so that it almost looks like a land explained in a novel. The need to capture it whole within your lenses is almost compelling so be prepared to witness a wonderland.
8. Endangered animals and birds
You know what else we have got there? Himalayan Black Bears, Blue Sheeps, Red Fox, Snow leopard, Musk Deer, The Himalayan Monal and much more for you to find within the valley itself, a marvelous confluence of Zasker range and Himalayas.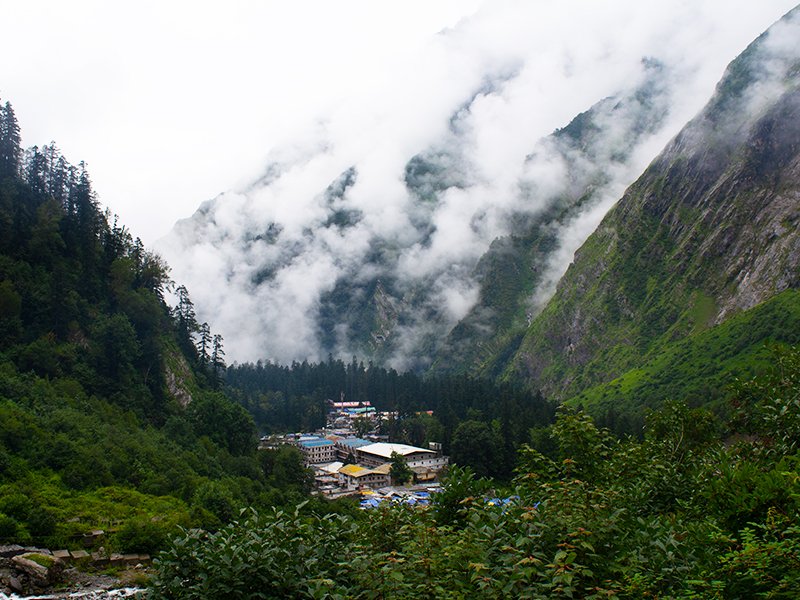 It is the source of income of many villages of the Chamoli disctric, specially the livelihood of Poolna and Bhyundar village depends on this trek. By visiting this place you are indeed promototing village tourism which is a strong pillar of responsible tourism.
Needles to say we all have gone aware of the need of physical fitness and pure source of oxygen in our lives ever since we were hit by this deadly pandemic. The purest source of oxygen and 0 levels of pollution might surprise your lungs a bit, but trust us they will love it. 
The state flower of Uttarakhand blooms high above at 3500mts which is approximately 11,400 ft. Seeing a bloomed Brahmakamal flower is so rare that Times of India stated "You are lucky tourist if you see Brahma Kamal flower blooming in Uttarakhand". They carry medicinal and wish fulfilling properties according to medical science and mythology alike. Make a visit to try out your luck for Brahmakamal fulfilling your wish this year.
As an adventure travel company we would like to point out a rookie mistake our visitors make often, the valley is not a la la land altogether, the valley is deemed moderately difficult trek with dangerous routs at places.  Ignorance in the preparation can lead to difficulty in your experiences. Acclimatize your body at 6300ft which the starting point to reach up to the highest peak of Hemkund Lake of 14,300ft. Contact us to get the PDF of necessary items to be brought in the trek of VOF.
For Valley of flowers our trek leaders have done a detailed study of more than 70 species of flowering plant which will be shared with you during the trek. With a successful experience in the market for the last 4 years, The Searching Souls have been thriving to be the best at business with its high quality and branded camping products, well nourished and amazing food throughout, experienced and certified Trek leaders and knowledgably well trained staff. You can trust us with an unforgettable experience with best class service.
Hope the article sufficed your queries regarding the most underratingly beauteous trek of India. For more details visit our website and book your trek today, Valley of Flower Trek starting from 1st of July 2021.
-Written by Saloni Shah. Know more about her on Instagram