THE HIGHEST LORD SHIVA TEMPLE IN THE WORLD
Send Enquiry & Get Itinerary on Whats App

Call our Valley of Flowers Expert Mr. Rakesh to know more about the trek
| | |
| --- | --- |
| State | Uttarakhand |
| Difficulty Level | Easy |
| Duration | 3 |
| Start Point | Haridwar |
| End Point | Haridwar |
| Highest Altitude | 13,123 ft  |
| Day Temperature | 12 to 20 Deg |
| Night Temperature | 12 to 2 Deg  |
Tungnath Chandrashilla Peak Trek
Tungnath Chandrashila trek lies in the Himalayan region of Uttrakhand. The 3 days trek covers a lot of beautiful places in Uttrakhand like Chopta, Deoriyatal, Tungnath Shiva temple, Chandrashila peak (4000m). Chopta is a small hill station in Uttrakhand comprised of meadows and evergreen forest with treks & camping. Chopta is known for its beautiful sunsets. 
Deoriatal is a very beautiful emerald lake situated amid dense forests of Rhododendron. Perched at an elevation of 2438 metres above sea level, Deoriatal offers a reflection of mighty Chaukhambha peak in its crystal clear water. Tungnath or famously known as the Tungnath temple is a sacred temple dedicated to Lord Shiva located in the mountain ranges of the Rudraprayag district of Uttarakhand. Perched at an astonishing elevation of 3680 metres above sea level, this temple is the highest Shiva temple in the world. 
Chandrashilla also known as the Moon Peak is the peak situated above the Tungnath Temple at an elevation of 4000 metres above sea level. One can view mighty Himalayan peaks from the summit point of Chandrashilla peak namely Mt. Nanda Devi, Chaukhambha Parvat, Kedar Dome, Bandarpoonch etc. 
What is special about Tungnath trekking?
The trail being of easy grade, is suitable to every age group and people, as compared to other Himalayan treks
 As compared to summit treks of Uttarakhand, it is the most easily accessible trek
It makes you reach, of Tungnath, The highest Shiva Temple in the world
The trek offers a complete 360-degree view of mighty Himalayan peaks
Achievement of summiting a Himalayan peak of 4000 metres without much stress.
You can easily spot some great Himalayan birds during the trail, especially Monal, the National Bird of Nepal on the trails to Tungnath and Chandrashilla. If you are lucky Himalayan Tahr can also be spotted at times
This is few of the Himalayan Treks which is accessible throughout the year. Though from Dec to Feb the trek comes under moderate category due to heavy snow fall in the region
Tungnath Trek Experience with TSS
Pick up from Haridwar at 7:00 AM.
Drive to Chopta from Rishikesh via Devprayag, Srinagar, Rudraprayag.
Arrival at Chopta and accommodation will be in a Deluxe Camps
Dinner and rest at camps followed by a quick introduction and briefing session with the tour leader 
Trek to Tungnath Temple after breakfast.
The trail is of easy to moderate ascend. It generally takes 3-4 hours to reach the temple
Ascend to Chandrashila Summit. Packed lunch at summit.
Descend down to Chopta by evening. Enjoy the beautiful sunset from Chopta
Overnight stay in the camps.
Leave early from Chopta and drive to Sari village
hike for 2 hours towards Deoriyatal
Enjoy the reflection of mighty Chaukhamba peak on the lake.
Descend down to Sari village by lunch
Drive back to haridwar.
Expected time of arrival 11:00 PM
Backpack/Ruck Sack (at least 55 Litres) and a small day bag ( upto 15 litres) for summit day
Poncho/Raincoat and Rain Cover for Ruck Sack
2 Quick Dry T-shirts (preferably Full Sleeves) and Track Pants
Warm Jacket preferably a down jacket or an equivalent heavy jacket to protect from cold at night
Comfortable Shoes with a good grip and ankle support. We recommend Quechua Forclaz 100 or similar shoe
A pair of fleece jacket or fleece upper
Good Thermals for insulation at night
Lip Balm and Cold Cream
Sun Cap or Sunscreen (SPF 30+)
Dark Sunglasses. People who wear spectacle may use photochromatic lenses in their spects
2 pair of warm socks and at least 2 pair of normal cotton socks
1 Pair of slippers/Sandals
Woolen Cap and Gloves for night
Toiletries – Tooth brush, Tooth paste, Liquid soap, Hand Sanitizers, Slippers, Light Towel, Toilet Roll (Avoid wet tissues as they are not eco friendly)
Torch or Headlamp with extra pair of batteries
Personal Medical Kit: Crocin-Fever, Avomine-Motion Sickness, Avil 25mg – Allergies, Combiflam, Disprin-headache, Norflox TZ & Lomofen-diarrhea, digene-acidity, omez/rantadine antacid, crepe bandages, band aids, ORS, betadiene or antiseptic cream, moov spray/volini, cotton, gauze.
Water bottle 1 L or Hydration bag 2 L
Other personal accessories – Camera, Tripod, mobile charger, power banks(as there will be no electricity during the trek)
Note:
Note: AC doesnt run on hills in fixed departure batches. Standard Non AC vehicles are provided for transportation

Being a high altitude trek, this trek is suitable for climbers with good physical condition and stamina.
This is a tentative itinerary which may change as per weather conditions
We expect you to carry your rucksacks, in case if you want them to be carried by mules back pack offloading charge up to Rs. 300/bag/day is applicable
In case of any natural calamity the company will not be able to refund the trip charges, for more details check our cancellation policy
Tungnath Chandrashilla trek Map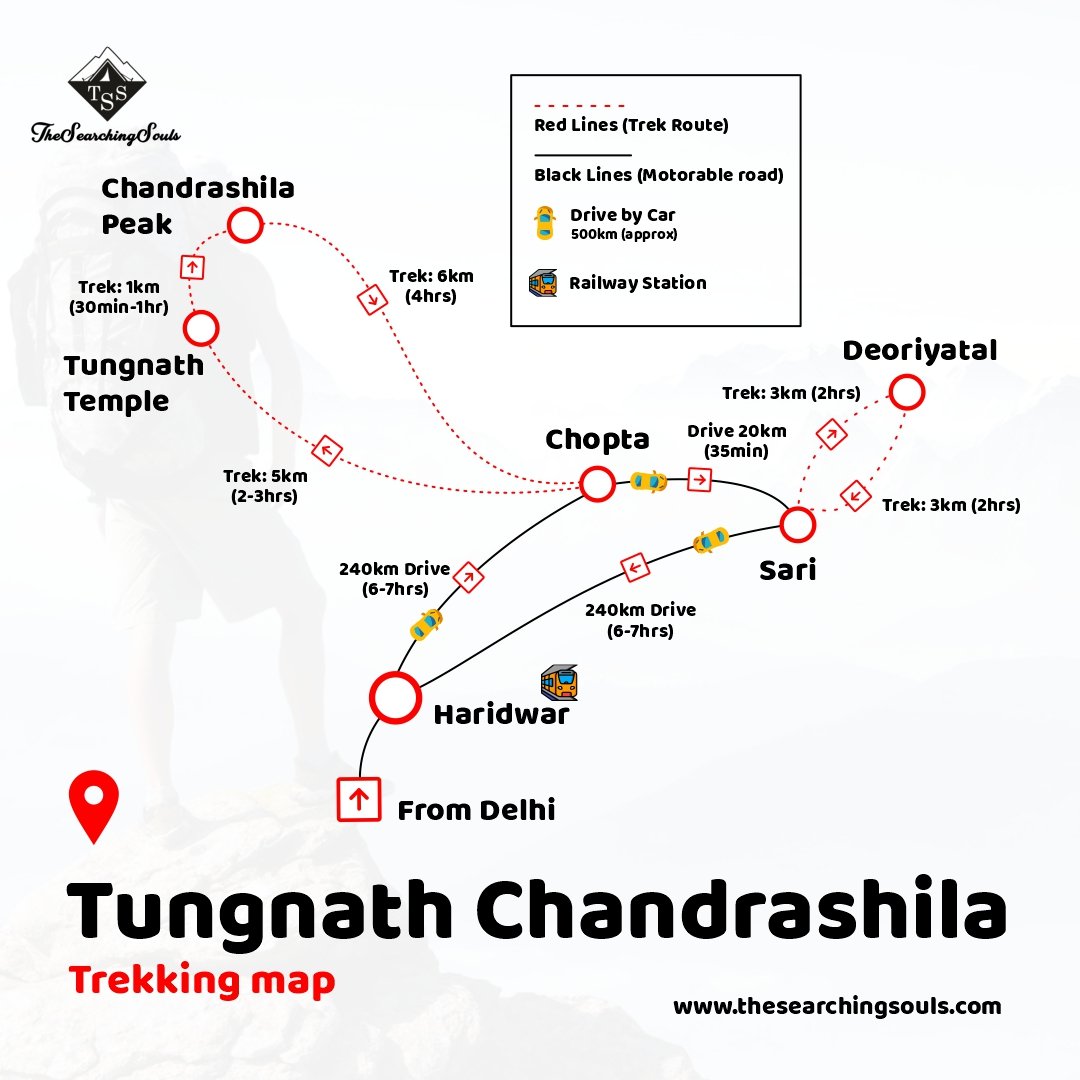 FAQ'S of chopta chandrashila trek package
Tungnath Chandrashilla trek
The Tungnath Chandrashilla trek remains a popular tourist destination for high-altitude trek enthusiasts. Situated at an elevation of approximately 4,000 meters above sea level, this trek offers captivating glimpses of Nandadevi, Trisul, Kedar Peak, Bandarpunch, and Chaukhamba peaks.
The key highlights of the trail remain the snowy paths with exotic flora and fauna until the summit. Subscribe our YouTube Channel. Also known as the Mini Switzerland of Uttarakhand, Chandrashila is the GO-TO-DESTINATION for every trek lovers!
Legend has it….
The Tungnath temple is the highest Shiva temple in the world and one of the highest among the Panch Kedar temple. Situated in the base of the Rudraprayag district of Uttarakhand, it has a very interesting mythological legend. The name of the temple is derived from "tung," which means "weapon," and "nath," which symbolizes "Lord Shiva." The temple is surrounded by a beautiful natural environment that enhances its charm.
According to the legend, after the Kurukshetra war, the Pandav were advised by philosopher Vyas Rashi to worship Lord Shiva to absolve their sin of killing their cousins. Lord Shiva, being convinced of their guilt, tried to avoid them and took the avatar of a bull in Guptakshi of the Garhwal region. However, the Pandavas caught the bull-formed Shiva, and the bull disappeared into the ground, reappearing in parts.
The hump region appeared in Kedarnath, the limbs in Tungnath, the face in Rudranath, the "nabhi" and stomach in Madhyamaheshawar, and the hair in Kalpeshawar. The Pandavas built temples at those places.
How to reach the base camp of Chandrashila Tugnath trek- Chopta : Mini Switzerland of India ?
You can reach Chopta Village via the following modes of transportation:
By Train: The nearest major railway station to Chopta Village is Haridwar Junction, located at a distance of approximately 215 kilometers. From Haridwar, you can hire a taxi or take a bus to reach Chopta Village.

By Air: The nearest airport to Chopta Village is Jolly Grant Airport in Dehradun, located at a distance of approximately 225 kilometers. From the airport, you can hire a taxi or take a bus to reach Chopta Village.
By Bus: Several government and private buses are available from major cities in Uttarakhand, such as Dehradun, Rishikesh, and Haridwar, that go to Ukhimath. From Ukhimath, you can take a shared taxi or private taxi to reach Chopta Village.
Safety with TSS
The theSearching Souls has always taken Safety as the utmost Priority in their Treks. We Have a "Zero Negligence" approach toward Safety. As a result, we have taken the Following Steps.
Qualified Trek leaders: All Our Trek Leaders are Qualified From the Nehru Institute of Mountaineering and have thorough knowledge and experience of the Mountains.
Emergency Planning: Team TSS always plans a step ahead in the Mountains as we believe anything at any time can happen in the Mountains, All Our trek leaders, Camp managers, and Cooks are aware of what should be the Course of Action in case of Medical emergency and Natural Calamities.
TSS Support Team: Safety in the Mountains begins at Home, Proper Planning and preparation are Key in any Mountain Trek. TSS Support Team is always available and will help you prepare better for the Trek through their Expert Knowledge and Guidance.
TSS Jumbo Bags: For executive travelers seeking adventure, trekking is a popular way to explore unfamiliar terrain and find inner peace. However, selecting the right equipment can be crucial to ensure safety and comfort during the journey. TSS recognizes this and offers a solution with their MY JUMBO BAG – BUDDY, which includes all necessary gear for a high-altitude trek at an affordable price. The company also emphasizes the importance of quality equipment in ensuring a successful and memorable trek, while cautioning against overpriced or unnecessary items. With TSS, travelers can confidently embark on their trek, knowing they have a reliable companion in their trek bag.
Are you tired of spending a fortune on expensive trekking equipment? Look no further than MY JUMBO BAG – BUDDY.
Why Tugnath Chandrashila is the best trek for you?
While the best time to do the Gaumukh trek is from Mid-April to June and then from September to October, the abundance of snow on the trail makes the trek challenging yet memorable.

Scenic Beauty: The Tungnath trek offers breathtaking views of snow-capped Himalayan peaks, pristine glaciers, and the beautiful Ganges River. The trek follows a northwesterly route in the wilderness and offers beautiful views of the Himalayas..

Cultural Experience: The trek takes you through several remote villages and towns, where you can interact with the locals, experience their way of life, and learn about their culture and traditions.

Adventure: The Tungnath Chandrashila is a challenging trek that requires physical fitness and endurance. It is a great opportunity for adventure enthusiasts to test their limits and push themselves out of their comfort zone.
Why Experience the Magic of Tungnath Chandrashila treks with The Searching Souls?
Expertise: The Searching Souls is a team of experienced trek leaders who are passionate about sharing their love for the outdoors with others. They have extensive knowledge of the Tungnath Chandrashila trek and the surrounding areas, ensuring that you have a safe and enjoyable experience.

Personalized attention: The Searching Souls focuses on small group sizes, allowing them to provide personalized attention to each trekker. They take the time to understand your individual needs and interests and customize the trek to ensure that you have the best experience possible.

Safety: Safety is a top priority for The Searching Souls. They provide all necessary safety equipment, including first aid kits and emergency communication devices, and their trek leaders are trained in wilderness first aid.

Responsible tourism: The Searching Souls is committed to responsible tourism practices. They follow Leave No Trace principles, minimizing their impact on the environment and also supporting local communities by using local guides and porters.

Memorable experience: The Chandrashila Tungnath trek with our team is not just a trek, but an experience. From the stunning views of the snow-capped Himalayas to the warmth of the local hospitality, the trek is sure to leave you with memories that will last a lifetime.
Unlock Your Inner Adventurer with The Searching Souls – Join Our Trekking Journeys and Create Memories that Last a Lifetime!
What should you pack for the Tungnath Chandrashila treks ?
Brahmatal Lake Trek
A Stunning Best Winter Trek Offering Meadows, Forests and snow laden peaks of the Himalyas
Dayara Bugyal Trek
Hike to a high altitude meadow considered among the highest & largest meadows of the Himalayas offering a panoramic view of gigant...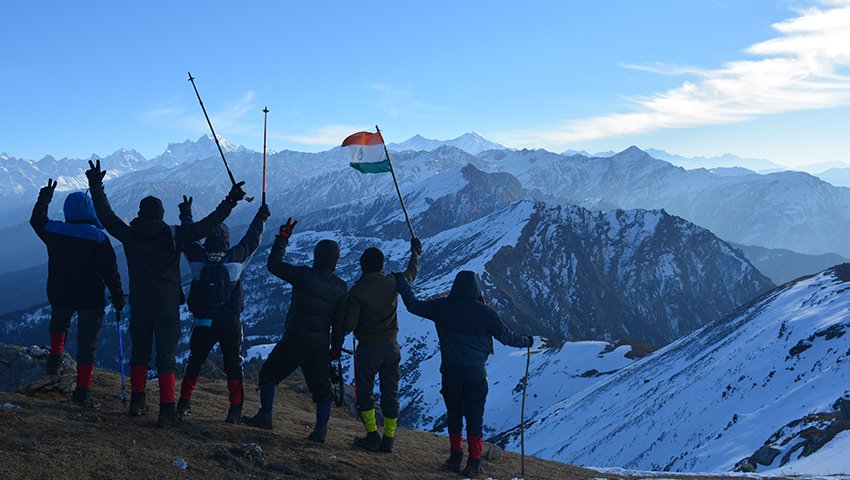 Kedarkantha Peak Trek
A must experience in the Himalayas. Considered among the best winter treks of the country,hike to Kedarkantha peak is an amazing e...
Kuari Pass Trek
Considered among the oldest treks of the Himalayas of Garhwal range, Kuari Pass or the Lord Curzon Trail is a must do trek for eve...