TOUR DATES & ITINERARY! START YOUR DREAM ADVENTURE NOW!
Send Enquiry & Get Itinerary on Whats App

| | |
| --- | --- |
| State | Uttarakhand |
| Difficulty Level | Moderate |
| Duration | 6 Days |
| Start Point | Lohajung |
| End Point | Lohajung |
| Altitude / Trek Distance | 12,150 ft / 22 km |
| Day Temperature | 15 to 20 Deg |
| Night Temperature | 02 to -8 Deg  |
150+ 5 Star Google Reviews for Brahmatal Trek
How We Make Treks Comfortable and Safe for you?
Brahmatal Trek Overview & Itinerary

Brahmatal trek is a very popular winter trekking destination. The main reason behind Brahmatal trek to be a success among winter treks is the ample availability of snow and camping alongside frozen Bekaltal lake. To add to the grandeur is the visibility of mighty Himalayan Peaks such as the likes of Mount Trishul and Mount Nanda Ghuti in the backdrops. 
From the Brahmatal top, one can easily view Himalayan Peaks like Mt. Chaukhambha, Neelkanth, Panchachulli Group of Peaks etc. which is a view worth summiting. The trek to Brahmatal starts from Lohajung lying in the Chamoli district of Uttarakhand. The trek comprises of trails passing through forests, villages, meadows, frozen lake and finally Brahmatal with high Himalayan peaks in the backdrop. 
An evening winter walk in the open meadows around the lake is a walk to be remembered forever. It is said by local villagers that Lord Brahma meditated at the Brahmatal Lake making it a sacred lake.
What is special about Brahmatal trekking?
This trek is accessible throughout the year and can be done by beginners as well as intermediate trekkers (Dec to March)
While trekking witness a different terrain every day, from Oak forest to high altitude meadow and a peak climb on summit day
The main features of the trek are the beautiful trails with panoramic views of the Himalayan range. Peaks like Mt. Trishul, Mt. Nanda Ghunti and Mt. Mrigthoni can be feels to be at an arms distance
One gets to witness beautiful frozen lakes – Bekaltal and Brahmatal. These high altitude scenic lakes makes this trek a must visit place if you are looking for trekking in winters
Brahmatal Lake Trekking Map
Backpack/Ruck Sack (at least 55 Litres) and a small day bag ( upto 15 litres) for summit day
Poncho/Raincoat and Rain Cover for Ruck Sack
2 Quick Dry T-shirts (preferably Full Sleeves) and Track Pants
Warm Jacket preferably a down jacket or an equivalent heavy jacket to protect from cold at night
Comfortable Shoes with a good grip and ankle support. We recommend Quechua Forclaz 100 or similar shoe
A pair of fleece jacket or fleece upper
Good Thermals for insulation at night
Lip Balm and Cold Cream
Sun Cap or Sunscreen (SPF 30+)
Dark Sunglasses. People who wear spectacle may use photochromatic lenses in their spects
2 pair of warm socks and at least 2 pair of normal cotton socks
1 Pair of slippers/Sandals
Woolen Cap and Gloves for night
Toiletries – Tooth brush, Tooth paste, Liquid soap, Hand Sanitizers, Slippers, Light Towel, Toilet Roll (Avoid wet tissues as they are not eco friendly)
Torch or Headlamp with extra pair of batteries
Personal Medical Kit: Crocin-Fever, Avomine-Motion Sickness, Avil 25mg – Allergies, Combiflam, Disprin-headache, Norflox TZ & Lomofen-diarrhea, digene-acidity, omez/rantadine  antacid, crepe bandages, band aids, ORS, betadiene or antiseptic cream, moov spray/volini, cotton, gauze.
Water bottle 1 L or Hydration bag 2 L
Other personal accessories – Camera, Tripod, mobile charger, power banks(as there will be no electricity during the trek)
Note:
Being a high altitude trek, this trek is suitable for climbers with good physical condition and stamina.
This is a tentative itinerary which may change as per weather conditions
We expect you to carry your rucksacks, in case if you want them to be carried by mules back pack offloading charge up to Rs. 300/bag/day is applicable
In case of any natural calamity the company will not be able to refund the trip charges, for more details check our cancellation policy
What should you pack for the Brahmatal Trek ?​
How to reach the basecamp of Brahmtal trek- Lohajung?
Lohajung is the base camp for the Brahmatal trek, and it is located in the Chamoli district of Uttarakhand, India. You can use the following modes of transportation to reach Lohajung:
By Air: The Jolly Grant Airport in Dehradun is the closest airport to Lohajung, approximately 220 km away. Once you arrive at the airport, you can easily hire a taxi or take a bus to reach Lohajung. The total duration of the journey from the airport to the base camp is estimated to be around 9-10 hours.
By Train: The nearest railway station to Lohajung is Kathgodam Railway Station, located around 210 km away. From the railway station, you can hire a taxi or take a bus to reach Lohajung. The journey takes around 8-9 hours.
By Road: Lohajung is well connected by road to major cities in Uttarakhand. Buses and taxis are available from cities like Delhi, Dehradun, Haridwar, and Kathgodam. The nearest major town to Lohajung is Karnaprayag, which is around 23 km away. From Karnaprayag, you can hire a taxi or take a local bus to reach Lohajung.
The Brahmatal Trek is yet another jewel of the Himalayas which is uninfluenced by the trekkers. Devoted to Lord Brahma, this place is located delectably amidst the Himalayas and is overlaid with snow most time of the year. The trail of this trek allows the adventurers to witness long lived and perennial forests of Oak and Rhododendron.
On clear days,this trek also serves an opportunity to have a glimpseof the magnificent Garhwal Mountains situated ata distance,the beauty of which is absolutely heart melting. Resting in the depths of the Uttarakhand, at an altitude of 3,800 meters, the Brahmatal treats the trekkers with some of the most splendid views of giant mountain peaks of Mount Trishul, Mount Nanda Ghunti and Mount Khamet.
The Brahmatal Trek makes a perfect winter trekking option for the beginners as it is that one trek which is open all throughout the winter seasonwhen most of the other trekking avenues are non-functional.
Synopsis of the Brahmatal Trek
Being one of the favourite trekking destinations for us, at The Searching Soul, the Brahmatal Trek lays on one of the prettiest forest walks and a perfect plan to witness diverse bird species and greenery those are rare in flora and fauna.
During spring, the trails of these forests are carpeted in the red and pink blooms of rhododendrons. In winters, the landscape transforms dramatically sheathing the region in immaculate white snow, making it nothing short of a Winter wonderland.
The Searching Soulgives you a perfect guideline for trekking through the Brahmatal Lake in Himalayas. The trek of Brahmatal begins from Lohajung village in the Chamoli district in Garhwal Himalayas which is also the base camp for the trekkers here. The trek's trail begins from Lohajung which is 8-9 hours' journey from Dehradun through picturesque and convoluting roads of Kumaon and Garhwal region.
The route is almost always gloomyand hazy which goes through the foliage of the coniferous and dense forest. The long meandering road is full of loops and curves. Follow us on Instagram. The further trek from Lohajung to the Gujreni campsite, which is of 6 KM, runs through dark and dumpy forests.
The campsite being in the heart of some of the magical panoramic views of snow-capped ranges, it is farther surrounded by trees of Oaks and Rhododendrons. Even with so much of geographical curbs, Brahmatal Trek difficulty level is easy to moderate. In fact, beginners can participate in Brahmatal trekking as much as an expert trekker can.
The Searching Soul is a company that promotes and encourages a learning based adventurous experiences to the trekkers by taking them out of their comfort zone and pushing them towards individual reflections through our trekking services.
We are a team of passionate people who are enthusiastic about spanning through the mountains from the time when trekking was not even properly known by the people in India. It is since then that we have been working with a goal of creating a sustainable trekking environment for people.
The Searching Souls has always taken Safety as the utmost Priority in their Treks. We Have a "Zero Negligence" approach toward Safety. As a result, we have taken the Following Steps.
Medical Tents: TSS is the Only Company in the Country that Pitches dedicated Medical Tents to The Slopes at all their Campsites. The Medical Tents consist of a Stretcher, Oxygen Cylinder, First Aid Kits, Oxymeters, and a few other facilities depending on the Slope and the nature of The Terrain.
Qualified Trek leaders: All Our Trek Leaders are Qualified From the Nehru Institute of Mountaineering and have thorough knowledge and experience of the Mountains.
Emergency Planning: Team TSS always plans a step ahead in the Mountains as we believe anything at any time can happen in the Mountains, All Our trek leaders, Camp managers, and Cooks are aware of what should be the Course of Action in case of Medical emergency and Natural Calamities.
TSS Support Team: Safety in the Mountains begins at Home, Proper Planning and preparation are Key in any Mountain Trek. TSS Support Team is always available and will help you prepare better for the Trek through their Expert Knowledge and Guidance.
TSS Jumbo Bags: For executive travelers seeking adventure, trekking is a popular way to explore unfamiliar terrain and find inner peace. However, selecting the right equipment can be crucial to ensure safety and comfort during the journey. 
TSS recognizes this and offers a solution with their MY JUMBO BAG – BUDDY, which includes all necessary gear for a high-altitude trek at an affordable price.
DAYARA BUGYAL TREK
Hike to a high altitude meadow considered among the highest & largest meadows of the Himalayas offering a panoramic view of gigant...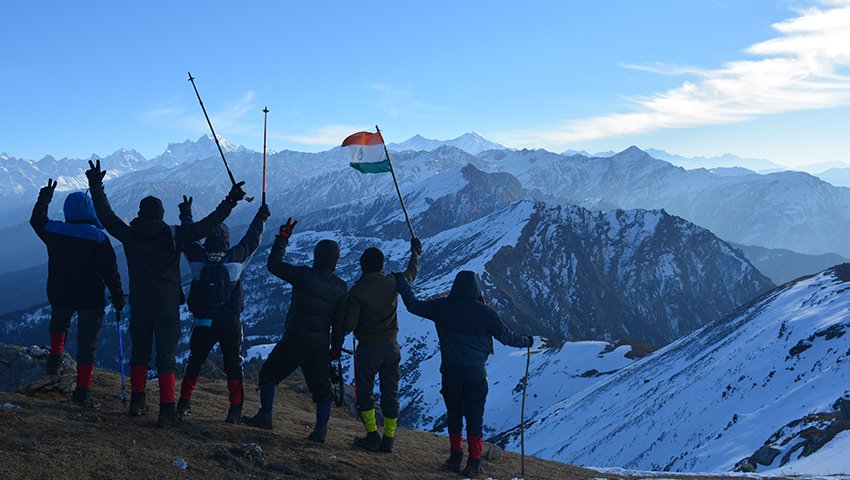 KEDARKANTHA PEAK TREK
A must experience in the Himalayas. Considered among the best winter treks of the country,hike to Kedarkantha peak is an amazing e...
KUARI PASS TREK
Considered among the oldest treks of the Himalayas of Garhwal range, Kuari Pass or the Lord Curzon Trail is a must do trek for eve...
Nestled at a height of 11930 ft above sea level, Sandakphu Phalut Trek offers the breathtaking experience of....