ONE OF THE MOST BEAUTIFUL ALPINE MEADOWS OF INDIA
Send Enquiry & Get Itinerary on Whats App

SUMMARY DAYARA BUGYAL TREK
| | |
| --- | --- |
| State | Uttarakhand |
| Difficulty Level | Easy |
| Duration | 4 Days |
| Start Point | Raithal |
| End Point | Raithal |
| Altitude / Trek Distance | 11811 ft / 18 kms |
| Day Temperature | 15 to 20 Deg |
| Night Temperature | 02 to -8 Deg  |
170+ 5 Star Google Reviews for Dayara Bugyal Trek
How We Make Treks Comfortable and Safe for you?
Dayara Bugyal Trek Overview & Itinerary

Dayara Bugyal trek is one of the most beautiful high altitude meadows of the country located in the Gangotri range of himalayas in Uttarkashi district of Uttarakhand. Perched at an altitude of 3408 metres above sea level, this meadow has everything a trekker wishes for. Equally beautiful throughout the year, Dayara Bugyal covers an astonishing area of 28 km and is among the highest and largest meadows which attracts hundreds of tourists and trekkers from all over the country. One can witness magnificient views of the Himalayan peaks like Mt. Bandarpoonch, Kalanag, Jaonli, Srikanth, and the Gangotri group of Peaks. Hike to Dayara Bugyal starts from a small village called Raithal which is 30 km from Uttarkashi. The hike to Dayara Bugyal is of 8 km and is of easy to medium grade. The trek trail passes through thick coniferous forests and then opens to a vast grassland i.e. Dayara Bugyal. This trek is accessible throughout the year and offers different views seasonally. It is also a perfect skiing location for the skiing lovers in the months of January and February.
What is special about Dayara Bugyal trekking?
The trek trail being of easy to moderate level, it requires less fitness levels and is suitable to every age group and people as compared to other Himalayan treks.
Hike to one of the Highest meadows of India.
Accessible throughout the year and is beautiful in all seasons. Greenery from Apr – Oct and Snow laden trails from Nov-Mar
A small trek offering bigger mountain experiences
Easy Trek which can be done by any one. Lesser efforts with greater rewards
A complete peace offering place at the summit view.
The destination offers a complete 360 degree view of mighty Himalayan peaks. Mt. Bandarpoonch, Mt Jaonli, Mt. Srikanth and Mt. Draupadi ka Danda seems at an arms distance from the Bugyal 
Dayara Bugyal Experience with TSS
DAYARA BUGYAL TREK ITINERARY
Backpack/Ruck Sack (at least 55 Litres) and a small day bag ( upto 15 litres) for summit day
Poncho/Raincoat and Rain Cover for Ruck Sack
2 Quick Dry T-shirts (preferably Full Sleeves) and Track Pants
Warm Jacket preferably a down jacket or an equivalent heavy jacket to protect from cold at night
Comfortable Shoes with a good grip and ankle support. We recommend Quechua Forclaz 100 or similar shoe
A pair of fleece jacket or fleece upper
Good Thermals for insulation at night
Lip Balm and Cold Cream
Sun Cap or Sunscreen (SPF 30+)
Dark Sunglasses. People who wear spectacle may use photochromatic lenses in their spects
2 pair of warm socks and at least 2 pair of normal cotton socks
1 Pair of slippers/Sandals
Woolen Cap and Gloves for night
Toiletries – Tooth brush, Tooth paste, Liquid soap, Hand Sanitizers, Slippers, Light Towel, Toilet Roll (Avoid wet tissues as they are not eco friendly)
Torch or Headlamp with extra pair of batteries
Personal Medical Kit: Crocin-Fever, Avomine-Motion Sickness, Avil 25mg – Allergies, Combiflam, Disprin-headache, Norflox TZ & Lomofen-diarrhea, digene-acidity, omez/rantadine antacid, crepe bandages, band aids, ORS, betadiene or antiseptic cream, moov spray/volini, cotton, gauze.
Water bottle 1 L or Hydration bag 2 L
Other personal accessories – Camera, Tripod, mobile charger, power banks(as there will be no electricity during the trek)
Note:
Note: AC doesn't run on hills in fixed departure batches. Standard Non AC vehicles are provided for transportation

Being a high altitude trek, this trek is suitable for climbers with good physical condition and stamina.
This is a tentative itinerary which may change as per weather conditions
We expect you to carry your rucksacks, in case if you want them to be carried by mules back pack offloading charge up to Rs. 300/bag/day is applicable
In case of any natural calamity the company will not be able to refund the trip charges, for more details check our cancellation policy
How to reach the base camp of Dayara Bugyal trek?
The base camp of the Dayara bugyal trek Natin village located in the Uttarkashi district of Uttarakhand, India, is a remote location, and there is no direct mode of transportation available to reach the village. However, you can use the following modes of transportation to reach the nearest town or city, and then hire a local taxi or take a bus to reach Natin village:
By Air: The nearest airport is Dehradun Airport, located around 220 km away from Natin village. From the airport, you can hire a taxi or take a bus to reach the nearby town of Uttarkashi. From Uttarkashi, you can hire a local taxi to reach Natin village.
By Road: There is no direct bus/taxi to Natin. Nearest city is Uttarkashi. a bus/taxi can be taken till Uttarkashi. From Uttarkashi you need to book a private cab
By Train: The nearest railway station to Natin village is Dehradun Railway Station, located around 270 km away. From the railway station, you can hire a taxi or take a bus to reach Uttarkashi.
You can avail transport from us from Dehradun as Dehradun is easily accessible from all parts of the country via Bus Train or flights. From Derhadun onwards there is no direct connectivity to the village.
The Dayara Bugyal overheads a wobbling 12,000 feet altitude is a panoramic view which is situated against an astonishing canvas of Himalayas and other neighboring summits of Bandarpoonch, Kala Nag,  Shrikhand Mahadev,  Srikanth peak and Gangotri. The stupendous trail of Dayara Bugyal Trek divulges wide ranging grasslands, alpine lakes and meadows and drizzling streams that soothes the senses with a rustic orchestration of the nature. Along with this, the beauty of Dayara Bugyal Trek is also marked by a rich tapestry of wildflowers and dense forests of oak and maple trees that is further enclosed by misty valleys. This alluring place stands in between high peaks which are covered with snow and thus, makes an excellent sight for the trekkers. Also, the meadows too remain covered in snow considering which itturns out to be the most phenomenal winter trek experience in Uttarakhand and serves as an excellent Skiing destination too.
Synopsis of the Dayara Bugyal Trek
According to locals, Dayara refers to a circular piece of land. During the Dayara Bugyal Trek, people come across lush green savannahs called "Bugyal" which is spread across the Himalayas and is a sight to behold. The Searching Souls provides various trekking options of the Dayara Bugyal Trek, both during summers and winters. The meadows are a perfect display in the winter season with its assurance of an incessant stretch of twinkling snow which makes it a famous winter trek and also in the summer season with the sunlight throwing back different shades of green and yellow, violet and white flowers exclaiming from all over the place.
The Searching Soulmaps the distance between Dayara Bugyal Trek from Haridwar to the Himalayas. The campground for the four days Dayara Bugyal Trek is at Barsu which is alighted at an altitude of 7,545 feet. This charming little settlement overlooks the green slopes of the valley on one side and the snowy peaks of the Himalayas on the other side. It is located at a distance of about 32 km from Uttarakashi. We take you through thick forests of lofty oak and pine trees, along the Bhagirathi river which is across the lush green meadows and through bubbling streams and rivulets. The Dayara Bugyal Trek is a trek of a relatively easy level and can be undertaken even by beginners and first timers. After reaching Barsu, the trekkerstimbre their tents near Barnala Tal and spend the night there. For the other nights of the voyage,trekkers can camp at various exciting places with breath takingpanorama.
The Searching Soul takes you through an uninterrupted range of Himalayan mountains and peaks that has long, fascinated and challenging adventurers in store for thrill seekers. We strive to help the aspiring trekkers to have these destinations ticked from their bucket list. We are an expert in trek leading, mountaineering expeditions and other adventure activities. Our team organises trekking and self exploration expeditions in the Himalayas and our qualified team of local guides and trek leaders are known for their dedicated work in these mountains.
Safety with TSS
The Searching Souls have always taken Safety as the utmost Priority in their Treks. We Have a "Zero Negligence" approach toward Safety. As a result, we have taken the Following Steps.
Medical Tents: TSS is the Only Company in the Country that Pitches dedicated Medical Tents to The Slopes at all their Campsites. The Medical Tents consist of a Stretcher, Oxygen Cylinder, First Aid Kits, Oxymeters, and a few other facilities depending on the Slope and the nature of kedarkanta trek. 
Qualified Trek leaders: All Our Trek Leaders are Qualified From the Nehru Institute of Mountaineering and have thorough knowledge and experience of the Mountains.
Emergency Planning: Team TSS always plans a step ahead in the Mountains as we believe anything at any time can happen in the Mountains, All Our trek leaders, Camp managers, and Cooks are aware of what should be the Course of Action in case of Medical emergency and Natural Calamities in the kedarkantha trekking package. 
TSS Support Team: Safety in the Mountains begins at Home, Proper Planning and preparation are Key in any Mountain Trek. TSS Support Team is always available and will help you prepare better for the Trek through their Expert Knowledge and Guidance.
TSS Jumbo Bags: For executive travelers seeking adventure, trekking is a popular way to explore unfamiliar terrain and find inner peace. However, selecting the right equipment can be crucial to ensure safety and comfort during the journey. TSS recognizes this and offers a solution with their MY JUMBO BAG – BUDDY, which includes all necessary gear for a high-altitude trek at an affordable price. The company also emphasizes the importance of quality equipment in ensuring a successful and memorable trek, while cautioning against overpriced or unnecessary items. With TSS, travelers can confidently embark on their trek, knowing they have a reliable companion in their trek bag.
Are you tired of spending a fortune on expensive trekking equipment? Look no further than MY JUMBO BAG – BUDDY. 
Why Experience the wilderness of Dayara Bugyal trek with The Searching Souls?
Expertise: The Searching Souls is a team of experienced trek leaders who are passionate about sharing their love for the outdoors with others. They have extensive knowledge of Dayara Bugyal and the surrounding areas, ensuring that you have a safe and enjoyable experience.

Personalized attention: The Searching Souls focuses on adequate group sizes, allowing them to provide personalized attention to each trekker. They take the time to understand your individual needs and interests and customize the trek to ensure that you have the best experience possible.

Safety: Safety is a top priority for The Searching Souls. They provide all necessary safety equipment, including first aid kits and emergency communication devices, and their trek leaders are trained in wilderness first aid.

Responsible tourism: The Searching Souls is committed to responsible tourism practices. They follow Leave No Trace principles, minimizing their impact on the environment, and also support local communities by using local guides and porters.

Memorable experience: The Dayara Bugyal trek with The searching Souls is not just a trek, but an experience. From the stunning views to the warmth of the local hospitality, the trek is sure to leave you with memories that will last a lifetime.
What should you pack for the Dayara Bugyal trek ?
Har Ki Dun
It is a beautiful trek in the Himalayas which goes through the Govind National Park, which is famous for its wild flowers especial...
Bali Pass Trek
Bali Pass is a difficult grade trek which takes you to an altitude of 5000 m above sea level, known for the famous knife ridge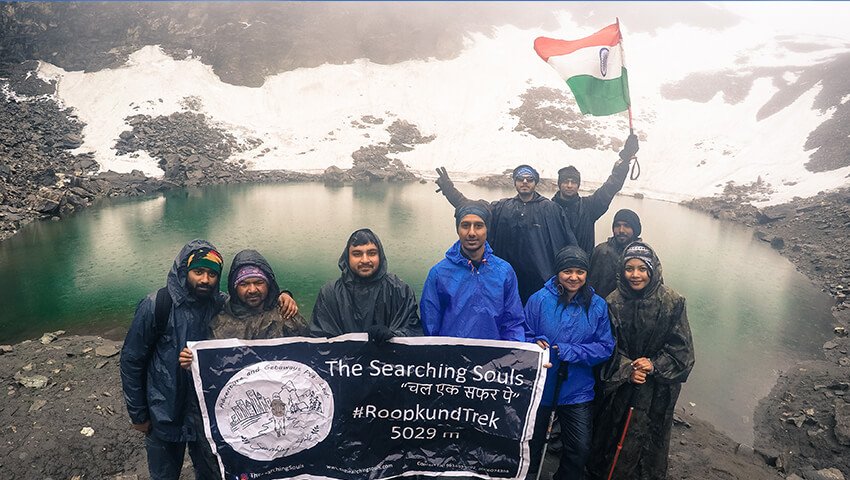 Roopkund Trek
A gem in lap of the Himalayas. Roopkund famously known as the Skeletal Lake, is a high altitude glacial lake in Chamoli district ..
Satopanth LAKE
Trek to this sacred Tal is a difficult one but as the beliefs of people wishes are fulfilled here so it's worth going there, this part of swargarohini the way to Heaven.