ONE OF THE BEST WEEKEND TREKS
Send Enquiry & Get Itinerary on Whats App

| | |
| --- | --- |
| State | Uttarakhand |
| Difficulty Level | Easy |
| Duration | 2 Days |
| Start Point | Pantwari |
| End Point | Pantwari |
| Altitude / Trek Distance | 9914 ft / 16 km |
Nag Tibba trek Overview & Itinerary
Nag Tibba Trek also known as the Serpent Peak, is the highest peak in the lesser Himalayan region of Uttarakhand. Situated at an altitude of 3022 metres, this is a perfect weekend trek for beginners and children, poses no threat of altitude sickness. 
Nag Tibba Trek offers a majestic view of stunning Bandarpoonch Peak, Gangotri Peaks, Kedarnath Peak in the north and Doon Valley with Changbang peak in the south passing through thick and dense oak forests.
The trail starts from a small village called Pantwari, 56 km from Mussourie and 90 km from Dehradun. The trail is of easy grade of 16 km distance from the base point and goes through Nag Tibba Trek base , marked by a temple dedicated to the Serpent God. This trek is best in the months of spring and winters.    
What is special about Nag Tibba trekking?
A Weekend Trek accessible throughout the year
Can be easily completed in just 2 days
Panoramic view of the Himalayan Peaks like Bandarpoonch, Kala Nag and Swargarohini
It is snow covered during winters
It is the highest peak of lesser Himalayas and gives you a feeling of climbing a Himalayan peak
Best trek to start for beginners
Nag Tibba Trekking Trip Video
Altitude: 2400 metres, 90 km drive and 4 km trek
Pick up from Prince chowk near  Dehradun Railway station at 6:00 AM.
A 90 km road ride to Pantwari village from Dehradun crossing the city of Muss0orie & Kempty Falls. Breakfast will be provided in the road side inns. The meal cost during the course of travel will be paid by the individual.
Arrival at Pantwari village, followed by lunch at the village. A 4 km trek gradual ascent to the campsite. 
Evening snacks and refreshments in the evening.
Dinner at the campsite.
Altitude: 3022 metres, 12 km trek and 90 km drive
Early excursion to Nag Tibba top at 5 a.m.
A 4 km ascend trek to summit of medium grade.
Carry 1 litre of water individually as the trail is deprived of water streams.
Reach at Nag Tibba top and stay there for a while.
Excursion back to Pantwari village from the top via camp1.
Lunch at Pantwari village followed by 90 km drive back to Dehradun.
Expected time of arrival in Dehradun 9.p.m.
Backpack/Ruck Sack (at least 55 Litres) and a small day bag ( upto 15 litres) for summit day
Poncho/Raincoat and Rain Cover for Ruck Sack
2 Quick Dry T-shirts (preferably Full Sleeves) and Track Pants
Warm Jacket preferably a down jacket or an equivalent heavy jacket to protect from cold at night
Comfortable Shoes with a good grip and ankle support. We recommend Quechua Forclaz 100 or similar shoe
A pair of fleece jacket or fleece upper
Good Thermals for insulation at night
Lip Balm and Cold Cream
Sun Cap or Sunscreen (SPF 30+)
Dark Sunglasses. People who wear spectacle may use photochromatic lenses in their spects
2 pair of warm socks and at least 2 pair of normal cotton socks
1 Pair of slippers/Sandals
Woolen Cap and Gloves for night
Toiletries – Tooth brush, Tooth paste, Liquid soap, Hand Sanitizers, Slippers, Light Towel, Toilet Roll (Avoid wet tissues as they are not eco friendly)
Torch or Headlamp with extra pair of batteries
Personal Medical Kit: Crocin-Fever, Avomine-Motion Sickness, Avil 25mg – Allergies, Combiflam, Disprin-headache, Norflox TZ & Lomofen-diarrhea, digene-acidity, omez/rantadine  antacid, crepe bandages, band aids, ORS, betadiene or antiseptic cream, moov spray/volini, cotton, gauze.
Water bottle 1 L or Hydration bag 2 L
Other personal accessories – Camera, Tripod, mobile charger, power banks(as there will be no electricity during the trek)
Note:
Being a high altitude trek, this trek is suitable for climbers with good physical condition and stamina.
This is a tentative itinerary which may change as per weather conditions
We expect you to carry your rucksacks, in case if you want them to be carried by mules back pack offloading charge up to Rs. 300/bag/day is applicable
In case of any natural calamity the company will not be able to refund the trip charges, for more details check our cancellation policy
Situated at 9,910 feet altitude, the Nag Tibba Trek is the highest peak in the lower region of The Himalaya. The Nag Tibba trek is a sine qua non for all the trek lovers which offers a bountiful of landscape to people planning to explore the stretch of Dehradun and Mussoorie. The Nag Tibba Trek peak, which is also known as The Serpent Peak composes off for an ideal weekend getaway destination for nature lovers.
The Nag Tibba trek exhibits the best of calmness filled with tranquillity and exciting trekking course through impenetrable jungles and meadows and hence, is a bewildering delight for those people delving in for adventure from all over the world. During the Nag Tibba trekking, one can witness beautiful flora and fauna, luxuriant mountains and thick forests that will leave one smitten by the beauty.
Synopsis of the Nag Tibba Trek
The Searching Souls offers trekking exploration of The Nag Tibba Trek which is one of the most exciting places near Mussoorie and the starting point of the trek is just a 3 hours drive away from the city. The prime part about the trek here is that the weather is indistinguishable from that of Mussoorie's climate and remains favourable throughout the year which makes it the best and safest trekking trial even during winters.
This is why we believe the Nag Tibba trek Package to be one of the most exhilarating treks in Uttarakhand, suiting both, beginners as well as skilful trekkers.
A two days Nag Tibba Trekking managed by us, at The Searching Soul, is a wholesome trek that offers an experience similar to that of a much more elongated Himalayan trek. Subscribe our YouTube Channel. From deep sinking snow to some of the most breath-taking and panoramic views of the Himalayas, Nag Tibba is a quintessential of all the trekking options in the Himalayan range.
Apart from this, the focal point of this trek arranged by us is its duration as it makes up as the most absolute option for a short extent adventure. Our trek duration varies between 2 to 5 days and takes about 7 hours to reach the hilltop from the base camp. This is because the terrain of Nag Tibba is gentle and does not include any extensive stretches or abrupt climbing.
The Searching Soul is a one stop destination management company for the exploration of the Himalayas. We are a team of premium service providers who offer far-reaching adventure travel solutions to nature and escapade lovers.
Our company being highly flexible regarding our client's needs and requirements, we progressively aim to attract more people on the road to trekking and bring out information pertaining to it in the Himalayan range and setting the right pneuma of trekking in the country.
We, at The Searching Soul, work with a belief that the world trumpets the common impulse to explore the remote, wild and exotic location and disembogue oneself off the self imposed limitations. Hence, it is our goal to help our clients experience these feelings repeatedly on their excursions with us.
What should you pack for the Nag Tibba Trek ?
Har Ki Dun
It is a beautiful trek in the Himalayas which goes through the Govind National Park, which is famous for its wild flowers especial...
Bali Pass Trek
Bali Pass is a difficult grade trek which takes you to an altitude of 5000 m above sea level, known for the famous knife ridge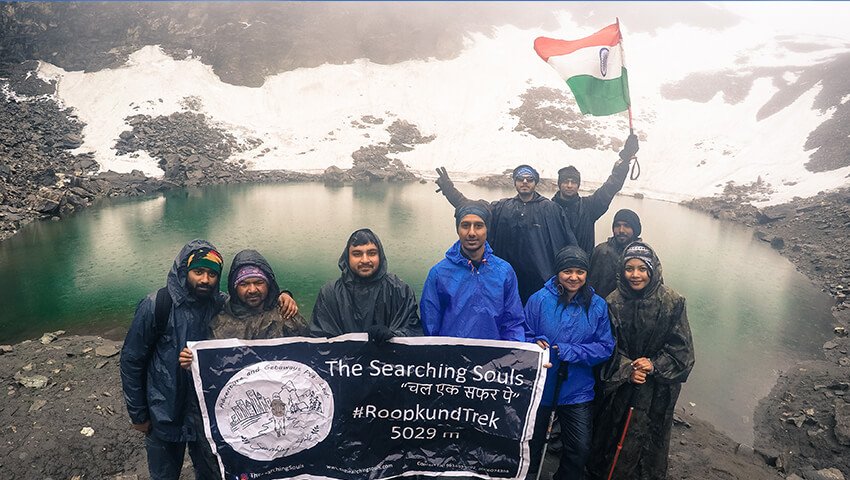 Roopkund Trek
A gem in lap of the Himalayas. Roopkund famously known as the Skeletal Lake, is a high altitude glacial lake in Chamoli district ..
Satopanth LAKE
Trek to this sacred Tal is a difficult one but as the beliefs of people wishes are fulfilled here so it's worth going there, this part of swargarohini the way to Heaven.