Meru, a peak in the Garhwal Himalayas which had never been conquered. Three of the world's best climbers are obsession with the climb of this peak. It is a jaw dropping true story of human perseverance. 
Trailer:
https://www.youtube.com/watch?v=1pZ1GzXPEO8
This is the story of an elite climber Tommy Caldwell and his love for climbing. Tommy is known for climbing all routes of El Capitan and is one of the best rock climber in the world. This is an unbelievable story of perseverance of Tommy and his climbing partner Kevin Jorgeson attempt to scale the impossible 3000ft Dawn Wall of El Capitan.
Story of Alex Hannold attempting to be the first person to Free Solo climb El Capitan. Free solo climb is a type of climbing in which a climber climbs a rock alone without any ropes, technical and protective equipment, a kind of climbing where a single mistake lead to death.
Trailer:
https://www.youtube.com/watch?v=urRVZ4SW7WU
Considered as one of the biggest disasters on Everest, the 1996 Storm is one of the black days of mountaineering. This is the story of New Zealand's Robert "Rob" Edwin Hall, who on May 10, 1996, together with Scott Fischer, teamed up on a joint expedition to ascend Mount Everest.
5. SEVEN YEARS IN TIBET (1997)
Movie starts with an attempt to climb Nanga Parbat in Pakistan just before the start of 2nd world war. It is the True story of Heinrich Harrer, an Austrian mountain climber who became friends with the Dalai Lama at the time of China's takeover of Tibet. 
Trailer:
6. TOUCHING THE VOID (2003)
A battle of life and death, it is a true story of two climbers/friends and their perilous journey up the west face of Siula Grande in the Peruvian Andes in 1985.
Trailer: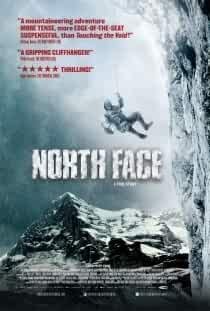 It is a German Movie Based on a true story, North Face is a survival drama film about a competition to climb the most dangerous rock face in the Alps. Set in 1936, as Nazi propaganda urges the nation's Alpinists to conquer the unclimbed north face of the Swiss massif – the Eiger.
Trailer:
A film dedicated to show the hard work of the Sherpas in climbing the world's highest peak in Nepal. It shows how things have changed since it was first climbed by Edmund Hilary and Sherpa Tenjing Norgay and the behavior of climbers towards Sherpas
Trailer:
10. VERTICAL LIMIT (2000)
This one is not a true story and is a commercial movie, though not very technical but it will acquaint you with basic mountaineering terms and will keep you entertained with action. It is about a brother's attempt to save his sister after an accident happens at K2
Trailer:
https://www.youtube.com/watch?v=GM-1V1VFcVk
​